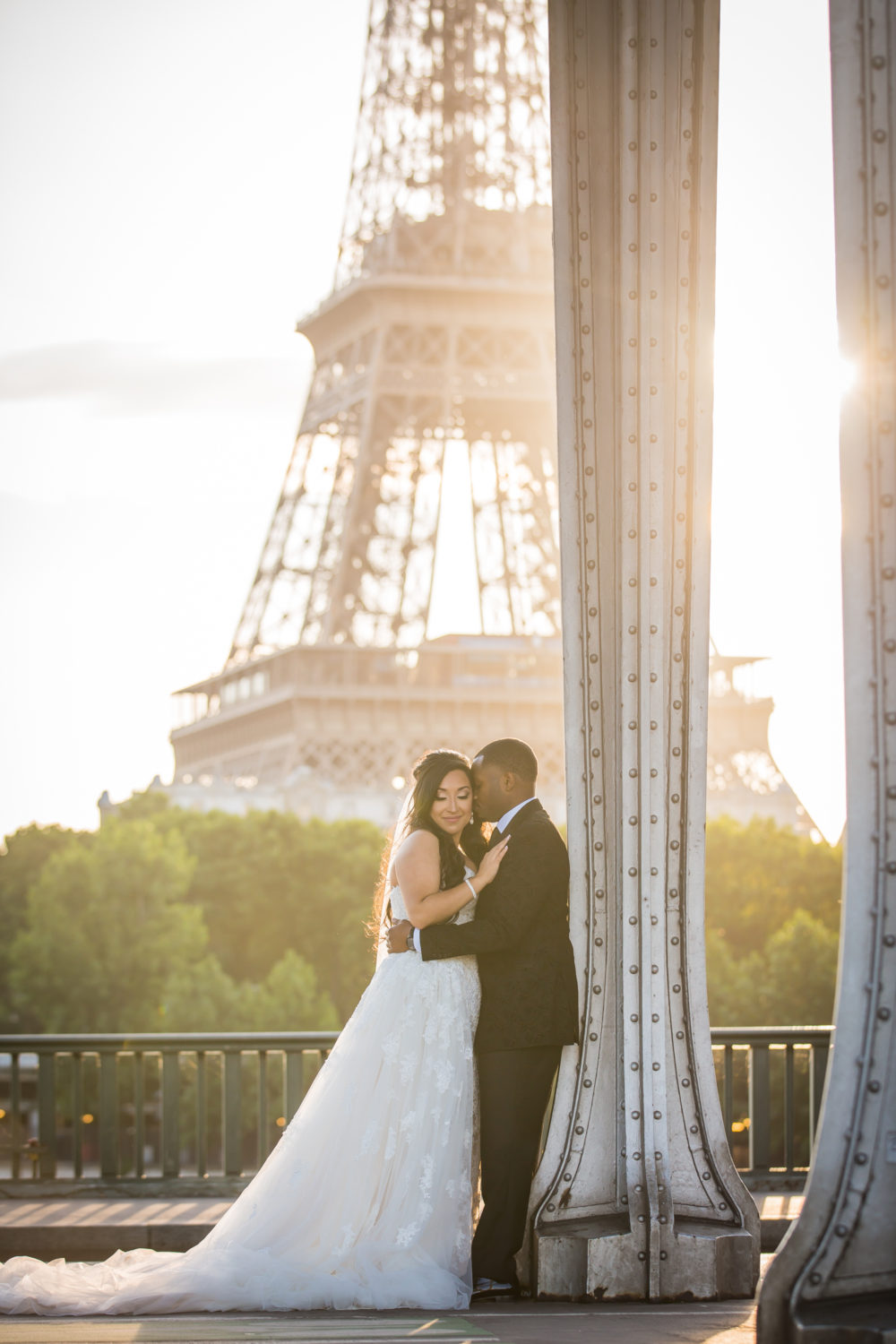 Elegant River Boat Paris Wedding
Kendall and Karen met in high school in 2003. They shared a Home & Family class together. The first day, they were given a meet & greet worksheet to the break the ice with the class. Several descriptions were listed, and they were to find someone in the class who matched each one. Everyone came up to Karen to sign their sheet next to "someone who speaks another language." The problem is Karen had no one to sign hers. Then Kendall came up to Karen saying, "I can sign your sheet; I speak Jamaican." The couple laughed it off and became great friends after that. They remained friends for years, until things changed when they went out for dinner and drinks on Kendall's 21st birthday.
Kendall proposed on Christmas Eve of 2014 at a family gathering. Everyone had already opened all their presents and it was almost midnight. Karen's father asked for everyone's attention and said Kendall had something he would like to announce. Then Kendall gave a short and sweet speech in front of Karen's entire family, got down on one knee, and asked for Karen's hand in marriage.
To find the perfect bridal gown, Karen went to several dress stores before finding "the one". Her dress had a French beige color, with ivory lace on top and gorgeous beading. It also had a detachable skirt that offered the stunning flare for her Paris Wedding. The skirt also gave Karen the advantage of two different looks. The couple had a grand reception in New Orleans, Louisiana after their ceremony in Paris. So she was able to remove the skirt for the reception, and it looked like two different dresses.
Kendall and Karen's Paris wedding was magical; the food was delicious, and the weather was perfect. Get inspired and check out this Paris destination wedding, as beautifully captured by Paris Photographer Pierre.
---
Event Date: July 13, 2016
Venue: Le Montebello boat
Photographer: Paris Photographer Pierre
Cinema and Video: 2P Paris Prod
Floral Designer: Flowers de Paris
Groomsman Attire: John's Tuxedos
Other: His jewelery by David Yurman
Tuxedo and Mens Attire: Fellow Suits
Bridesmaid Dresses: Sorella Vita
Ring Designer: Lee Michaels Jewelry
Tuxedo and Mens Attire: Givenchy
Shoes: Bride's & Groom's shoes by Christian Louboutin
Bridesmaid Store: Bustles & Bows Bridal Boutique
Veils and headpieces: Bel-Aire Bridal
Dress Designer: Maeve by Sophia Tolli
Hair Stylist: Ciara Coiffure
Makeup Artist: AyshGlamm
Bakery: Macaron Tower by Laduree
Cake Designer: Synie's